Chamber orchestra CV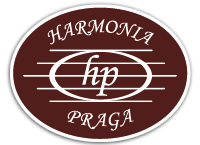 The formation of chambre orchestra HARMONIA PRAGA is not fixed, it depends on particular demands on programme and interpretation. The orchestra performs from a small baroque formation to the formation of early-classicistic orchestra. Its core repertoire consist of compositions from baroque to early-classicism, but the orchestra interprets also works of other music periods.

Miroslav Vilímec (concert master of the Czech Philharmony) is art leader of the chamber orchestra Harmonia Praga. He often plays with this ensemble as a solist, too.

Chamber orchestra Harmonia Praga gives concert both at home and abroad. In 2013 Harmonia Praga began using New Town Hall in Prague for its regular concert, where has the Orchestra already presented , next to the standard repertoire also some premieres. For example the world premiere of a J.B.Vanhal´s Symphony E major (found and reconstructed by Stefan Britvík) , as well as the Czech premiere of a Concerto for Violin in A major by Chevalier de Saint George. Many of other premieres are being planned. Next to these music discoverie from the period of classicism, the chamber orchestra Harmonia Praga pays attention to the work of the main Czech composers of today (Jiří Teml, Onřej Kukal among others).

The orchestra cooperates regularly with conductor Štefan BritvÍk, who is chief-conductor and art-leader of the symphonic orchestra Symphony Prague.